4x4 Self-drive adventure: Pomona & Bogenfels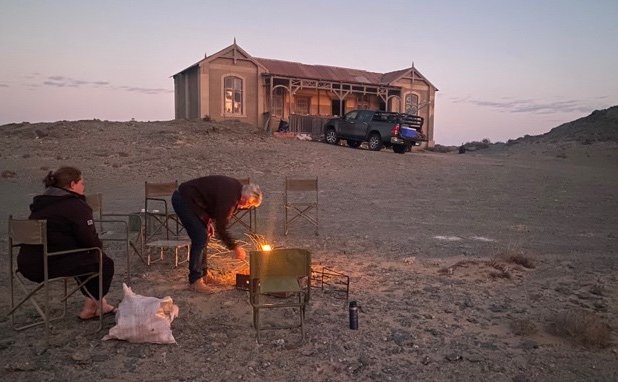 The two-day overnight 4x4 selfdrive adventure is well-suited for those who wish to explore the fascinating desert to the South of Lüderitz in the comfort of their own vehicle, combined with a overnight camping in one of the deserted ghost towns ensconed deep in diamond history.
Our guided 4x4 self-drive adventure commences at 07h45 by meeting our guests at their place of accommodation.  We do a short briefing whereupon we will drive the 12km to the Namdeb control point at Komanskop.  After a short registration process we proceed to the Rotkopf entrance gate to the Tsau //Kaeb National Park.
On the way, we will pass the old railway siding of Grasplatz where it all began in 1908, when shifting sand dunes made it necessary for teams of workers to clear the tracks on a daily basis. It was here that Zacharias Lewala found the sparkling gem that set off the diamond rush to the area and resulted in a handful of small towns springing up in the inhospitable terrain...
After a short drive on the gravel road to Oranjemund, we turn westward onto a smaller secondary path which quickly loses itself in the first dunes to be encountered.  We continue our drive in a southeasterly direction, driving along the former railway line that linked Kolmanskop with Pomona and Bogenfels more than a 100 years ago.  The remnants of old sidings where materials were offloaded in support of mining activities bear testimony to the harsh conditions in which prospectors and miners operated in this forbidden area.            
As we drive on through the diverse terrain and vegetation of the desert, and colours transform from browns and oranges to earthy yellows, our guide will chat about the fascinating mysteries and stories of the time.  We head towards the coast at Jammerbucht where old buildings and the remains of a desalination plant that supplied the nearby village of Pomona with fresh water can be viewed.
From here we head eastwards and after a short drive we will reach the ghost town of Pomona late afternoon where we will set up camp next to the former school that also served as a guest house.  Abandoned houses in the mining settlement at Pomona hold a beauty in their disintegrating frames, and like in Kolmanskop, make picturesque subjects to photograph at sunset and early in the morning.
After setting up camp, sundowners in the silence of this ghost town are enjoyed while we start the fire over which dinner will be prepared.  After dinner we sit around the fire to stargeze and listen to the sounds of the night, receiving possible visits of brown hyenas and jackal.
After an early breakfast on day 2, we visit the diamond separation plant nearby before continuing our drive southwards to valleys with names such as Idatal and Märchental, where workers were able to pick up diamonds from the surface with their hands in the moonlight at night.  We also briefly stop at Stauchslager, a compound for workers where the remains of sleeping quarters serve as reminder of the poor conditions in which local labourers had to operate.
Just before reaching Bogenfels we stop to visit the Dome cave, one of various caves on the shoreline.  The beach here is of untouched beauty.  At around mid-day, we reach the majestic Bogenfels arch.  One of Namibia's landmarks, and eroded by time and a crashing sea, the arch towers 55 metres above the rugged coast.  In the distance, the Bogenfels plant and old ruins vie with each other for attention in the bleak world.
We subsequently commence our drive back.  After checking out at the Namdeb control point at Komanskop we should arrive back in Lüderitz late afternoon.
Gallery
Rates
Adults: N$6,450
Kids up to 12 years:  N$4,850
Minimum of 8 persons.
Rates are valid from 1st January to 31st December 2022.
Terms and Conditions apply.
We specifically also cater for vegetarians and persons with gluten sensitivities or other allergies. Please advise at time of booking.
Please advise at time of booking if a special occasion, such as a birthday or anniversary, is being celebrated.