E-Bay Diamond History Excursion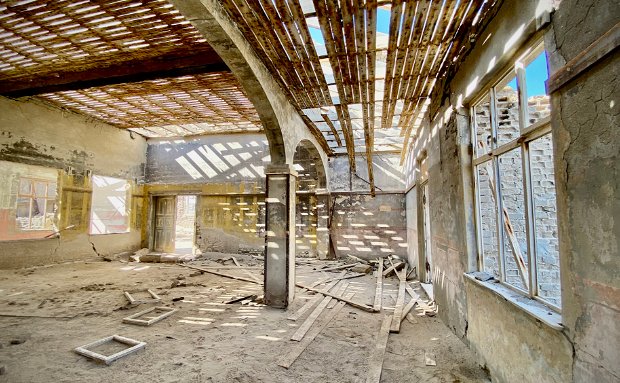 Often forgotten in the shadow of its ghost town counterpart Kolmanskop, Elizabeth Bay was another lucrative diamond mining town that is worth exploring. It feels closer to urban exploration, and its decrepit buildings and machinery tell of a dark, greedy history.
E-Bay was developed between 1924 and 1926, with a number of engineers, technicians, hundreds of artisans from Germany and local workers recruited to build the plant. All materials and every piece of equipment needed had to be transported by railways from Lüderitz. After having produced 1.25million carats of diamonds, the Great Depression caused a complete shutdown in 1931, with the residential part of E-Bay being finally abandoned in 1940. Mining activities at E-Bay thereafter continued on-and-off, with a new owner taking over the mine in 2021.
Our guided halfday-tour focuses on the early years, taking visitors to experience the rich history and huge dichotomy in living conditions of miners and workers in years gone by.  Our excursion commences every morning at 08h45 with a pickup of guests from their places of accommodation.  On demand, we may do two staggered departures per day of maximally 32 persons each, who will leave Lüderitz within one hour of one another.   
We do a short briefing whereupon we will drive the 12km to the Namdeb control point at Komanskop.  After a short registration process we enter the restricted area to the South and will proceed 26km to Elizabeth Bay.  Along the way we will pass the extensive railway system operational between Kolmanskuppe and E-Bay, and learn about the logistical challenges relating to the supply of fresh water and electricity. 
Upon arrival at E-Bay we conduct a tour through the abandoned village area and visit the extensive separation plant.  We view the remains of a huge entertainment hall and casino overlooking the ocean.  The village also contrasts rows of housing for miners, and large, overcrowded sleeping quarters for local workers.
We view the south-facing bay and discuss the historic role of Possession island recognisable in the distance in early diamond mining and guano harvesting.
Guests are encouraged to also explore the remains of the village on foot to take advantage of spectacular photographic motives, or just to reminisce about the past. 
We serve coffee, tea and biscuits at the house of the mine manager, where static informational displays can be studied.
The drive back to Lüderitz gives us time to discuss modern diamond mining in Namibia, its challenges, opportunities and successes.
After checking out at the Namdeb control point at Komanskop we should arrive back in Lüderitz at around 13h00.
Gallery
Rates
Adults: N$2,950 per person
Children up to 12 years:  N$2,450 per person
Minimum of 4 persons.
Rates are valid from 1st January to 31st December 2023.
Terms and Conditions apply.
We specifically also cater for vegetarians and persons with gluten sensitivities or other allergies. Please advise at time of booking.
Please advise at time of booking if a special occasion, such as a birthday or anniversary, is being celebrated.