Bogenfels and Diamonds Excursion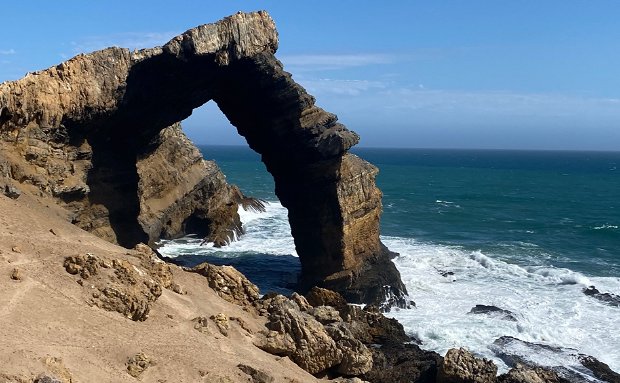 Join us for a guided day-tour from Lüderitz southwards through the Sperrgebiet, stopping at ghost towns where desert sands have built up and attempted to reclaim their land, causing roofs to fall in and walls to crumble. The highlight of the tour is Bogenfels, a massive rock arch that straddles the coastline and sea, comparable to a 20-storey building at an impressive height of 55 metres.
The desert around Lüderitz is steeped in diamond history. Tales of diamond smuggling and intrigue abound, and the sands cover and uncover remnants of the lives of those intrepid folk who ventured into this remote arid region to live in the small mining towns scattered amongst the gravel plains of Namibia's Diamond Coast. 
This excursion will commence every morning at 07h45 with a pickup of guests from their places of accommodation.  On demand, we may do two staggered departures per day of maximally 32 persons each, who will leave Lüderitz within one hour of one another.  
We do a short briefing whereupon we will drive the 12km to the Namdeb control point at Komanskop.  After a short registration process we will proceed to the Rotkopf entrance gate to the Tsau //Kaeb National Park. On the way, we will pass the old railway siding of Grasplatz where it all began in 1908, when shifting sand dunes made it necessary for teams of workers to clear the tracks on a daily basis. It was here that Zacharias Lewala found the sparkling gem that set off the diamond rush to the area and resulted in a handful of small towns springing up in the inhospitable terrain...
After about 30 minutes we will reach our first stop Grillental, an old fresh-water station that was utilised for its underground water, a boon in an area that was devoid of the life-giving fluid.  We will stop here briefly.
As we drive on through the diverse terrain and vegetation of the desert, and colours transform from browns, black and oranges to earthy yellows, our guide will chat about the fascinating mysteries and stories of the time.  When we reach Pomona, two flat-topped hills appear, surrounded by small gravel heaps created from tailings from the search for diamonds. Abandoned houses in the mining settlement at Pomona hold a beauty in their disintegrating frames, and like in Kolmanskop, make picturesque subjects to photograph. Narrow railway tracks lie rusting in the sand from this lifeline that joined communities together and enabled supplies to be transported in between.  It is easy to imagine the skittle alley bustling with after-work residents, and the mine's doctor and his family in the large house that has 1912 inscribed on its outer wall.
We will offer lunch here in the former school, which also doubled as a guesthouse.  Guests will have the opportunity to explore Pomona on foot.
Driving further, we pass various valleys with names such as Idatal and Märchental, where workers were able to pick up diamonds from the surface with their hands in the moonlight at night.  We may also encounter the odd springbok and jackal.
Just before reaching Bogenfels we may, depending on the agility of our guests, walk down to visit the Dome cave, one of various caves on the shoreline.  Thereafter, we stop to view the Bogenfels arch.  One of Namibia's landmarks, and eroded by time and a crashing sea, the arch towers 55 metres above the rugged coast.
In the distance, the Bogenfels plant and old ruins vie with each other for attention in the bleak world.
We subsequently drive back to Lüderitz conveying information on life in Lüderitz and a group of people that are still linked to the mining world, its successes, disappointments and dreams.
After checking out at the Namdeb control point at Komanskop we should arrive back in Lüderitz at around 17h00.
Gallery
Rates
Adults: N$4,950
Kids up to 12 years:  N$3,950
Minimum of 4 persons.
Rates are valid from 1st January to 31st December 2023.
Terms and Conditions apply.
We specifically also cater for vegetarians and persons with gluten sensitivities or other allergies. Please advise at time of booking.
Please advise at time of booking if a special occasion, such as a birthday or anniversary, is being celebrated.